Days for Girls International
Several of Zion's members have taken on a new ministry in cooperation with Days for Girls International. They are making kits to be sent overseas that will help millions of women and girls work through a monthly nightmare.
Hygiene solutions are a little thing that becomes a big thing quickly, when millions of women and girls suddenly have what they need to stay in school, pursue opportunity, and succeed.
Days for Girls envisions a world where menstruation is no longer a source of shame and taboo. Through volunteers, through enterprises, and through public and private partnerships, Days for Girls is working to shift how women and girls see themselves and are seen by their communities. We offer girls and women with new life choices and spur narrative change, through providing sustainable hygiene solutions, health education, and income-generation opportunities.
There are a lot of things that are hard to change in the world. This isn't one of them. Join with us, and show what's possible when we work together on behalf of women and girls.
How can you help support this new ministry? Your donations of new, dark-colored, pretty, patterned flannel material, hotel-sized soaps, gallon-sized freezer Ziplock bags, sewing skills, and/or money, would be very appreciated.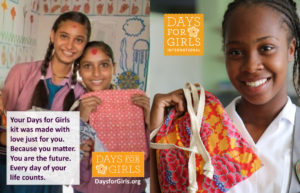 VISION
Every girl and woman with ready access to feminine hygiene, by 2022.
MISSION
Days for Girls is dedicated to creating a more free, dignified, and educated world, through providing lasting access to feminine hygiene solutions and health education.
Thus far, Days for Girls has reached over 640,000 women and girls. We can reach them all, with your help.